---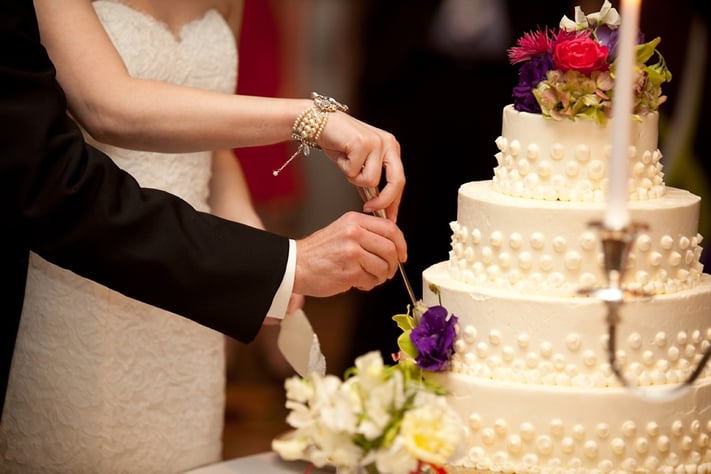 Ancient Roman wedding ceremonies were finalized by breaking a cake of wheat or barley (mustaceum) over the bride's head as a symbol of good fortune. The newly married couple then ate a few crumbs in a custom known as confarreatio—eating together.
---
Wedding cakes take center stage in the traditional cake cutting ceremony, symbolically the first task that bride and groom perform jointly as husband and wife. This is one tradition that most of us have witnessed many times. The first piece of wedding cake is cut by the bride with the "help" of the groom.
Etiquette dictates that the bride place her hand on the cake-cutting knife and the groom put his hand over hers. Make two smooth cuts in the bottom tier of the cake, then carefully remove the slice onto a plate. It's proper for the groom to gently feed his bride the first bite, and then she can do the same.

In other countries, the wedding cake is broken over the bride's head to ensure fertility and bring good fortune to the couple. Also, some people today think that eating the crumbs of the wedding cake would give them good luck because the wedding cake symbolizes happiness and good life to the newlywed couple.
Sugar - Maroon 5
I Can't Help Myself ( Sugar Pie Honeybunch) - Four Tops
I Can't Help Falling In Love With You - Elvis Presley
Is This Love - Bob Marley
Build Me Up Buttercup - The Foundations

From this Moment - Shania Twain
Love on Top - Beyonce
Honeybee - Blake Shelton
I'm Your's - Jason Mraz
How Sweet ItIs (To Be Loved By You) - James Taylor
Lots of couples like to save the top tier of cake for their first wedding anniversary. While your cake can survive a year in the freezer (if well wrapped in plastic and sealed in an airtight container) we advise eating it early, say while reviewing your wedding photos three months into the marriage.
---

Wedding cakes are symbolic from the time they were created until now that they were made even more special. Brides and their grooms may even become emotional as they cut their cake. After all, this would also mark the ending of the wedding, and the beginning of a new life as husband and wife. Enjoy!
---