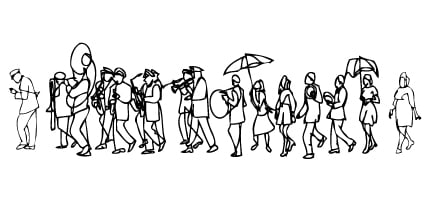 If there is one thing New Orleans is known for it is their good music. All throughout the city of New Orleans, it is beaming with not just a cultural appreciation for their roots but also the amazing sounds of yesteryear. If you ever find the time to stroll down the streets of the French Quarter, and even Bourbon, make sure to stop and admire the beautiful sounds this town has to offer.
One parade that a lot of people go through New Orleans for is the Second line parade. The history of Second line goes all the way back to traditional West African circle dances, in which a "dance" was performed in order to get slaves to line up. This dance was brought over to America and then made into a jazz dance as time went on, and is now a time of joy and merriment instead of its unfortunate origins. It comes from the members behind the "main line" or "first line" in which they are around just to enjoy and follow the music around. Anyone can be a part of the celebration and you are literally just there to walk around, enjoy yourselves, and absorb the sounds. The reason these Second Line parades are so fun is because anyone can join and participate in following the band around and do whichever dance they feel. It is not just up to the marching band but technically the second line band! Anyone can be a part of the band and form their own marching band with strangers and loved ones alike.
The history of Second line may show a regrettable mark upon America's first beginnings, but this has surely blossomed into a time and tradition that will stand the test of time. This cultural heritage goes back decades in New Orleans where clubs and organizations would allow any body to join in the festivities and allow them to enjoy themselves. So many parades nowadays just want the members that register to participate in the event, but with the New Orleans type of parades anyone is able to join. This is just one of the many reasons New Orleans is not just a travel destination but also a fun time for any age.
There are kids, adults, and even elders that join these parades to grab beads, listen to music, and just enjoy the atmosphere that Louisiana is known for. The next time you find yourself in the downtown area of New Orleans, you have to participate in one of these parades to see just how fun they can really be.
This fun tradition would definitely go over well at corporate party or wedding. If you are throwing an event, consider this type of band to spice things up! The music and the movement are things that everyone can be a part of. Grab some hankerchiefs and beads, call the right band and go for it!